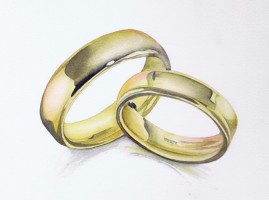 Gold Rings
£3 per PDF download
Watercolour painting – [Intermediate Course]
Step by step instructions by David Lewry in a full colour PDF available as a download.
Click the image to view the completed watercolour painting.
Enjoy completing this course in the comfort of your home!
Course Description
The use of gold in art has a long tradition. Originally pure gold was used in paintings as gold leaf which was obtained by hammering gold coins into sheets so thin that they appeared weightless. It can be found as a background in many icons and in religious painting to denote the majesty of heaven and was used for halos or to add a sparkle to robes or hair. But real gold has an unnatural look, which explains why it was used in this context; to emphasize the difference between the temporal and spiritual plains.
It was only during the Renaissance and then in the masterful still life paintings by Dutch masters that artists discovered a way of depicting the brilliance of gold objects using ordinary pigments and a great deal of skill.