Walking into an art shop for the first time can be a daunting experience for the beginner. Over the years I have tried many different products and so can hopefully offer some practical advice.  I would always recommend buying the best materials you can afford to obtain good results.
Products from any of the major manufacturers such as Winsor and Newton or Daler Rowney are consistently good and they both offer a student range in addition to their artist quality, which maybe more suitable for the beginners budget. I would avoid however, any of the cheap sets that are available at some of the non-specialist outlets. Some of the so-called watercolour paper and paints maybe ok for children but are totally unsuitable for anybody wishing to take up the hobby seriously.
In addition to the above two ranges the products listed on this page are all used personally by me and many of my students and I would wholeheartedly endorse them. You will not generally find them in local art shops so I have provided links that will take you directly to the suppliers.
I am always happy to discuss the materials that I use in my work and if you have any specific questions please email me and I will do my best to answer them.

SHIN HAN PROFESSIONAL TRANSPARENT WATERCOLOUR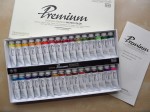 Watercolour paints come in two different qualities, Student and Artists. The student range is cheaper because it uses less expensive pigments and is bulked out by using fillers. Whilst it is good for most beginners, all of my students now recognize the better quality and superior results offered by the artists range.
These wonderful Shin Han paints from Korea are artists quality but at a fraction of the price of other manufacturers. I am pleased to recommend them to all of my students and now use them almost exclusively for my own work, including the botanical studies.
The box sets offer exceptional value for money and if they are ordered through my website you can claim an extra 10% Discount and free packing and postage.
All Shin Han tubes are 15ml, compared with 5ml of most other ranges and are AP health labelled and comply fully with ASTM-4236 standards.
The 24 Tube set would normally cost £58 but with the discount is just £52.20 and the 32 tube set is normally £72.00 but is available through the website for £64.80!
Buying the equivalent in Winsor & Newton artists water colour would cost over £300!
There are three additional colours in the range that I find extremely useful that are not included in the sets. These are: Neutral Tint (357) (£3.96 including discount), Naples Yellow (230) (£3.51 including discount) and Shadow Green (279) (£4.59).
If ordering tubes singly there will be a small postage charge.
All of these products can be ordered directly from Barbara at Art Profile 01234 764232, www.artprofile.co.uk .
Don't forget to mention my name to receive your additional discount.
KHADI PAPER SKETCHBOOKS
Many of you have seen my travel sketchbooks and there are some examples in the gallery section of this website. My favourite sketchbooks when I am travelling contain Khadi paper, which is a handmade 100% cotton paper from India. There are two textures, rough and smooth and find they are ideally suited to my pen and ink sketches and will also accept watercolour, ink and various other media. The hardbacks are ideal for sketching outdoors and they open out totally flat so that I can continue across both pages if required. They come in a variety of sizes, my preferred one is 240mm x 210mm, which is ideal for my sketching bag.
They are available through some art shops or online from www.khadi.com

I also use Moleskine sketchbooks which are better for graphite drawing and always keep a small one of these with me at all times for instant sketching. Theses are available widely through retailers such as Waterstones or WH Smith as well as online.