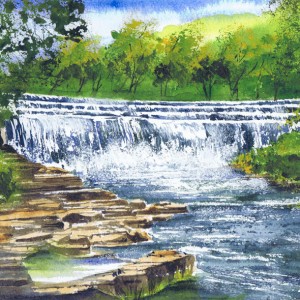 Monsal Head Fall
£3 per PDF download
Watercolour painting – [Intermediate Course]
Step by step instructions by David Lewry in a full colour PDF available as a download.
Click the image to view the completed watercolour painting.
Enjoy completing this course in the comfort of your home!
Course Description
These magnificent falls are found near Monsal Head, an area of outstanding natural beauty in the Peak District where three counties, Derbyshire, Shropshire and Cheshire, meet. This watercolour painting captures the power and excitement of the moving water as it tumbles over the edges, before continuing on its way down the river between rocky banks.