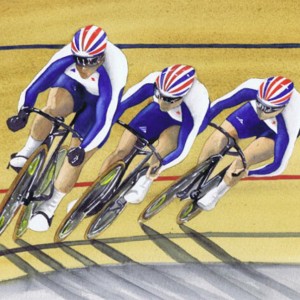 Olympic Cycling
£3 per PDF download
Watercolour painting – [Intermediate Course]
Step by step instructions by David Lewry in a full colour PDF available as a download.
Click the image to view the finished watercolour painting.
Enjoy completing this course in the comfort of your home!
Course Description
2012 and the Olympic Games comes to London! This dramatic image of the British cycling team makes a great subject to paint and hopefully Sir Chris Hoy and the rest of the team will be bringing home the medals!
Sports subjects may not seem an obvious choice to paint but can be very rewarding. The bright colours of the uniforms and the dynamic attitudes of the competitors can make excellent compositions.