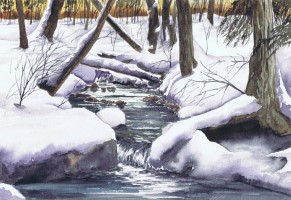 Winter waterfall
£3 per PDF download
Watercolour painting – [Intermediate Course]
Step by step instructions by David Lewry in a full colour PDF available as a download.
Click the image to view the completed watercolour painting.
Enjoy completing this course in the comfort of your home!
Course Description
This little stream running through the snow covered woods reminds me of crisp mornings taking Blondie for a walk along the banks of the river and watching her bound off into the virgin whiteness.
Watercolour is a great medium for painting snow and always makes an attractive subject. The secret is to get plenty of contrasting dark tones set against the whiteness to make it stand out even more. The whole scene is painted in very cool colours apart from the distant sky that hints of a thaw on the way.